Mind the Gap — The funding gap, that is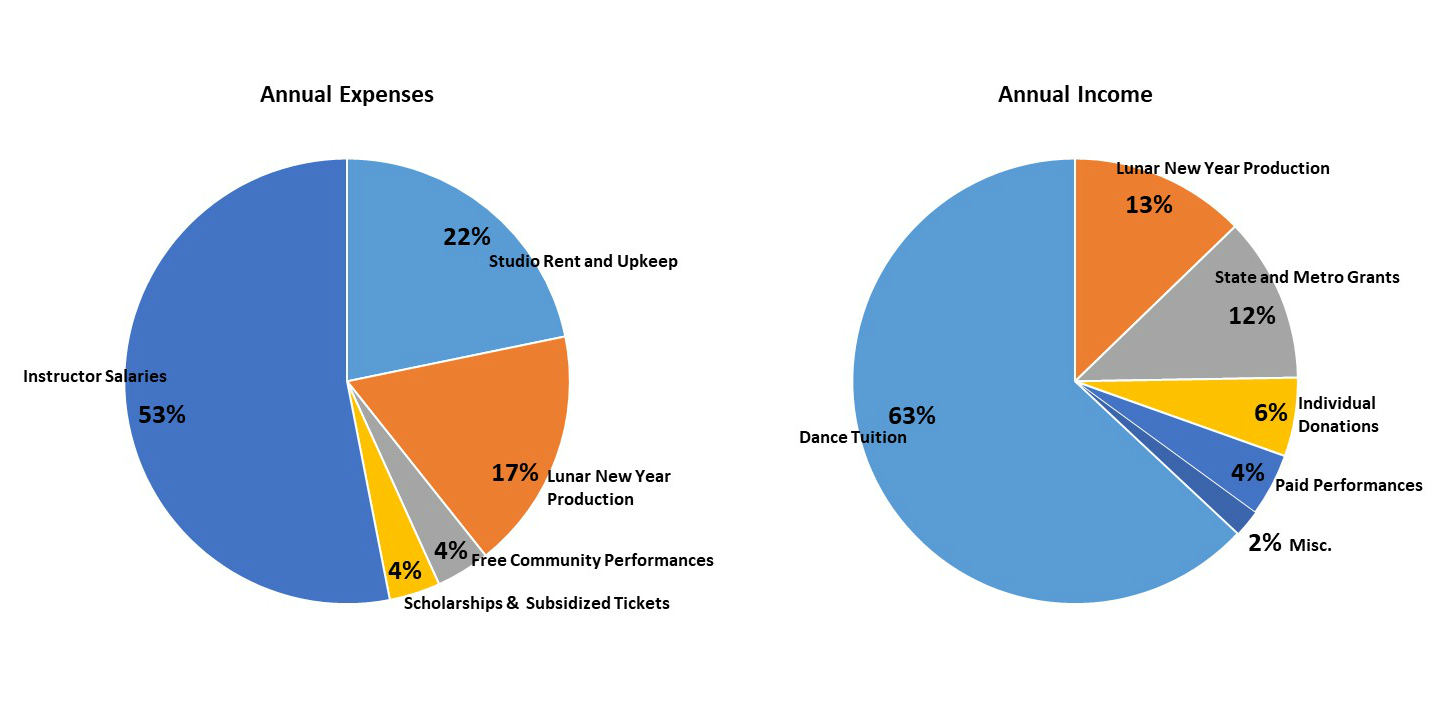 Like all nonprofits, CAAM Chinese Dance Theater operates within its budget.  Also like other nonprofits, we yearn to expand our reach, touch more lives, and build stronger, better bridges into our community. In any given year, fixed costs account for about three-fourths of our budget, leaving us with only a small portion of monies for community activities. In generous years, we expand our community activities; in less-generous years, we have no choice but to scale back. Costumes and costume upkeep tend to be first cut, followed by holding less lavish Lunar New Year performances for the community or fewer Lunar New Year performances. This is a bit of a tricky equation because, as you can see from the second pie chart, the Lunar New Year performance is our second largest source of income! We also leverage our dedicated volunteers to the greatest extent possible. Especially in the tough years, parents donate materials for props and costumes, build props and costumes — even if they have no relevant experience — and literally walk the streets handing out flyers encouraging people to come to our shows. About 8% of our annual budget is dedicated to free performances and to scholarships for children from low-income families. Our goal is to double that percentage in the coming year. Unfortunately, much of last year's scholarship funding came from a generous, but non-renewable, Learning Arts grant from the Metropolitan Regional Arts Council. With support from you, our amazing community, we will be able to maintain or increase funding for these young people in 2019.
As the bar chart shows below, we are facing a substantial gap between our current funding and our 2019 goals.  Scholarships, Tickets, and Busing: Last year, donors gifted enough money to bring 412 children from low-income families to our Lunar New Year School Matinee. This year, those children would like to attend again, but this year they also need bus fare. Furthermore, approximately 400 additional new children from low-income families would like to attend the School Matinee, and they also need bus fare. Last year, the Metropolitan Regional Arts Council provided summer camp and dance tuition scholarships to 6 children from low-income families. We would like to support those children in 2019 and expand the opportunities to more children as well. Lunar New Year Production: Although we consider our much loved, critically acclaimed Lunar New Year Production to be one of our most important community activities, ticket sales and donations typically fall short of the costs of producing it by about $10,000 per year. Operations: 100% of all operational activities at CAAM CDT, from cleaning the studio to writing this website, is done by volunteers. Our volunteers are proud and happy to give back to an organization that helps their children so much! When these volunteer parents leave the organization, there is often no one with the same skill-set to replace them. Shifting some operational duties to a trained, salaried professional–specifically, someone trained in public relations, fundraising, development and sales–could not only expand our community reach, but also potentially pay for the position by bringing in new streams of revenue. Upkeep: Those costumes will not clean themselves! After nearly 15 years of benign neglect, hundreds of costumes require specialized cleaning, repairs or replacement.
Do any of these goals speak to you? If so, please consider a tax-deductible gift today. Visit our Give To The Max page and select among the special projects listed there, or donate directly from this page!
To direct your gift to a specific program, such as operations, please type "Operations donation" in the line where it says, "This donation is made in honor of:" as well as anyone you wish to honor. Donors at the $100 level and above will receive a free ticket to the Weekday Matinee.