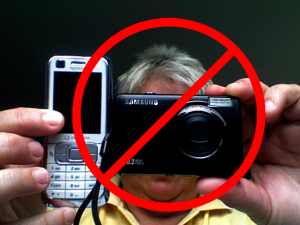 Did You know?
The number one complaint new audience members have at CAAM CDT's critically acclaimed Lunar New Year Productions is other audience members using their cellphones to take pictures!
Many new audience members do not come back as a result, even though they otherwise enjoyed the show.
Ticket revenue represents CAAM CDT's second largest source of year-to-year funding.

Our dancers work tirelessly all year to put on a professional-quality show, and all audience members deserve a professional environment in which to enjoy it! Please do not drive our audience away with discourteous behavior. Put your camera and cellphone away! You will actually enjoy the show more if you do.
 Please respect our camera and cell-phone policy
Only officially ticketed cameras will be allowed. Many of our grants require us to provide photographic information about our work. We will have up to 3 official photographers in the audience. If you are not one of these 3 photographers, your camera will be checked into a holding area before you are allowed to enter the venue. Please leave your cameras at home!
To reduce our official photographers' impact on others, we will surround them with volunteers 2-3 rows deep in all directions.
Our photographers will make their photographs freely available to others. There should be no need for you to take any additional photos.
In addition, we employ a professional videographer who makes DVDs of the production available at cost. Please contact us if you are interested in purchasing a DVD.
Please keep your cellphones put away during the performance. Cellphone glare is distracting to others and prevents them from enjoying the show unfolding on stage.
If someone asks you to put away your cellphone, please do so immediately. That they had to ask is a bad sign that you have already disrupted their enjoyment of the show. Don't be that person.
People who do not follow these guidelines will be asked to leave. This is embarrassing for everyone involved. Please don't let it come to this.
Following these simple acts of courtesy will allow everyone to enjoy the show. Thank you for your attention.