CAAM Chinese Dance Theater believes that ongoing, collaborative partnerships throughout the community lead to greater understanding, bridges across cultures, and expand our worldviews.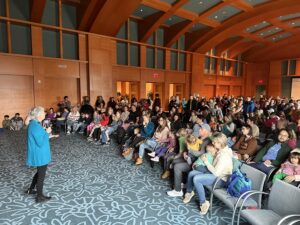 We offer custom performances, workshops, residencies, classes or any combination of these elements, tailored to meet the needs of your community. We serve community-based groups and educational institutions, as well as businesses, festivals, and associations.
We proudly partner with local school community education programs offering in-school, after-school, and summer camp dance programs for their students. We also regularly present Chinese-themed workshops for school assemblies and student groups. Our school partners and their students attend our annual dance drama in downtown St. Paul during Asian American and Pacific Islander (AAPI) heritage month.
You'll find us engaging audiences and participants with dazzling performances and interactive activities for Lunar New Year, summer festivals, Autumn Moon Festival, AAPI events, and other events throughout the year.
Corporations, business, and government offices seeking to educate and bridge cultural gaps for their employees will partner with us to connect to Chinese culture through its dance arts.
Let us know how we can help make your event amazing.