Jinyu Zhou: Artistic Director, Instructor and Choreographer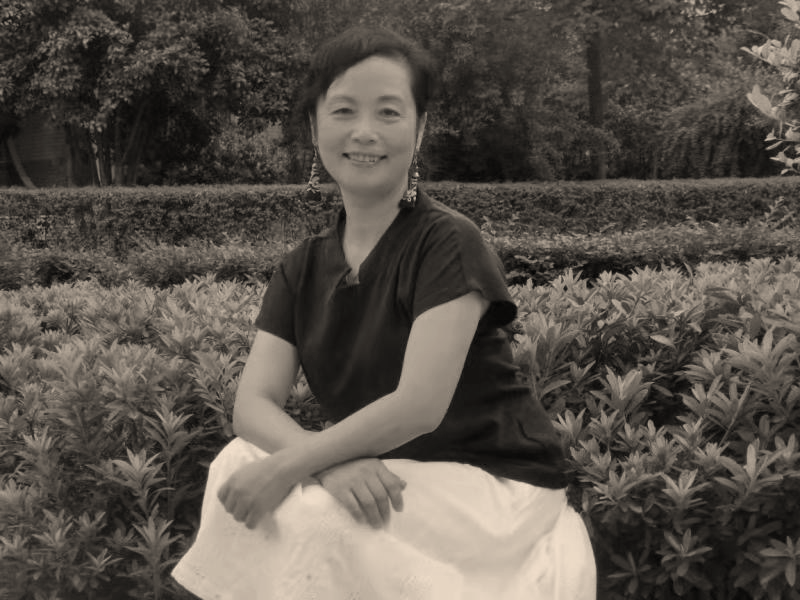 After an extensive and thoughtful search for new artistic talent, CAAM Chinese Dance Theater is pleased to announce the addition of Jinyu Zhou, internationally distinguished artist and choreographer to its artistic staff. Ms. Zhou is among the highest ranked choreographers in China and a member of the Chinese Dance Artists' Association. Over the course of her 40-year career, she has held highly critical roles as a choreographer for dance troupes around the world.
Ms. Zhou studied in Zhejiang Performing Arts Academy (specializing in dance performance), Beijing Dance Academy (specializing in choreography), Beijing Normal University Continuing Education Institute, Asian Open University for Education in Hong Kong (specializing in creative writing), and Master Arts program at Zhejiang University.
Starting her professional career in 1976, Ms. Zhou performed as part of Zhejiang Song and Dance Theater where she quickly rose to the ranks of Primary Director/Choreographer in 1981 and became responsible for directing dance dramas, dance performances, musicals and large-scale events. Throughout her career, Ms. Zhou also performed abroad including in Japan and Malaysia, where she became an ambassador of Chinese artistic forms on an international stage. Within China, she has also performed for prominent worldwide Chinese leaders, including Mao Zedong, Deng Xiaoping, and Jiang Zemin.
In addition to her choreographic work with Zhejiang Song and Dance Theater where her choreographic works have also won multiple awards, many from national competitions, Ms. Zhou has been honored on several occasions with invitations to serve as a featured guest choreographer internationally. As guest choreographer for the Hong Kong Dance Company, she created and directed two premier dance dramas that were critically acclaimed within the Hong Kong artistic circle and beyond. Ms. Zhou has also served as the director and choreographer for Hangzhou's The Voice of the Ancient Canal Art Troupe, the choreographer of the Dongyang Garden Arts Group, and the artistic director for Zhejiang Shengyi Culture and Creativity.
Grounded in a nuanced understanding of societies and open to diverse dance genres from around the world, Ms. Zhou's choreography is expansive as well as deep. Her choreographic experimentation with multicultural and cross-cultural aesthetics can be seen in many of her works. CAAM Chinese Dance Theater welcomes Zhou Laoshi, her experience, and talents and looks forward to her extensive contributions. In February 2020 she will begin sharing her talents full time at CAAM Chinese Dance Theater.
经过广泛而深思熟虑的寻找新的艺术人才后,明州中美联谊会中国舞蹈学校自豪地宣布国际知名艺术家和编舞家周金瑜(Jinyu Zhou)将加入其艺术团队。周金瑜是中国一级国家舞蹈编导,也是中国舞蹈艺术家协会的成员。在40年的职业 生涯中,周女士曾担任着世界不同地区舞蹈团的编舞,扮演着至关重要的角色。
她曾就读于浙江表演艺术学院(舞蹈表演专业),北京舞蹈学院(舞蹈编导专业),北京师范大学继续教育学院,香港亚洲开放教育大学(专门从事创意写作)和浙江大学艺术硕士课程。
周女士加入浙江省歌舞剧院后,于1981年从舞者迅速升为首席导演/编舞,并负责导演舞蹈剧,舞蹈表演,及沙地音乐等大型活动。在整个职业生涯中,周女士还曾在海外,包括日本和马来西亚,演出,并在国际舞台上成为中国艺术形式的大使。在中国,她还参加了为包括毛泽东,邓小平和江泽民在内的国家领导人的演出。
周女士在浙江省歌舞剧院的舞蹈编创作品还曾获得多个奖项,其中许多奖项都来自全国比赛。除此之外,她还多次受到邀请在国际上担任特邀嘉宾编舞。作为香港舞蹈团的编舞,她创作并执导了两部首屈一指的舞蹈剧;这些剧在香港艺术界及其他地区都广受好评。周女士还曾担任过杭州的《古运河之声》艺术团的导演和编舞,东阳花园艺术集团的编舞和浙江盛义文化与创意艺术总监。
基于对社会的细微了解,并接受来自世界各地的各种舞蹈流派,周女士的舞蹈设计既广泛又深刻。在她的许多作品中都可以看到她对多元文化和跨文化美学的舞蹈实验。 CAAM中国舞蹈学校欢迎周金瑜女士的经验和才华,并期待她的广泛贡献。 2020年2月,周老师将开始在CAAM中国舞蹈学校全职分享自己的才华。